News Topics
Daedalus Begins Construction On Cornerstone Homes' Mesa Headquarters At Dover Industrial Park Daedalus Also Starts Construction on Two Additional Buildings
MESA, Ariz. (Jan. 31, 2006) -Daedalus Real Estate Advisors of Phoenix has begun construction on a 20,000-square-foot headquarters office building for Cornerstone Homes at Dover Industrial Park, located west of the northwest corner of Greenfield and McDowell roads in North Mesa. Daedalus will also commence construction on two additional speculative facilities on adjacent property, making the new project a 50,000-square-foot, three-building project.
Cornerstone Homes, founded in 1998, is a Mesa-based homebuilding firm. The company specializes in creation of production and custom homes, as well as custom lot development and land entitlement. The firm is led by CEO Todd Tucker, a Mesa native and current resident.
The Cornerstone Homes building will contain 20,530 square feet of space and be situated with McDowell Road frontage. One of the speculative buildings will contain 20,097 square feet of space, featuring 22-foot clear height and two grade-level dock doors. The second speculative building will contain 9,868 square feet with 18-foot clear height and two grade-level dock doors. Both speculative buildings are being marketed for lease. The buildings are configured for both office and warehouse space.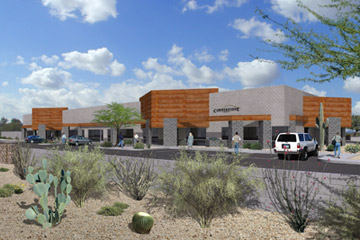 Completion of the three buildings is planned for fall 2006. Kennedy Design Build, a Mesa business with offices at Dover Industrial Park, is serving as general contractor for the project. Phoenix-based Dickinson Architects designed the three buildings.
"These buildings are well designed to be both functional and efficient while maintaining an attractive corporate image," says Joe Isbell with Daedalus Real Estate Advisors. "They complement the high quality projects already in Dover Industrial Park that have aided in attracting new users to the Park." Isbell is the exclusive agent for the two speculative buildings.
Dover Industrial Park is a 65-acre industrial, office and commercial development park at the northwest corner of Greenfield and McDowell Roads in North Mesa. Dover Industrial Park currently includes Aliant Tech Systems (ATK); Hunter's; Kennedy Design Build; Trans-Matic; and Standard Bolt/Chrome Hardware Supply. Dover Associates, LLC purchased the park in 1999 from The Boeing Company.
Improved lots as well as the opportunity for build-to-suit leasing are currently available. Contact Joe Isbell for more information (602) 889-2300.
About Daedalus Real Estate Advisors, LLC
Daedalus Real Estate Advisors, LLC, is a Phoenix based commercial real estate services company that provides investment, development and communications consulting to corporate real estate clients. Recognized in 2004 and 2005 as one of the state's most influential developers by Arizona Business Magazine Daedalus Real Estate Advisors, LLC creates exclusive lifestyle experiences through office, industrial, retail, golf and residential development. For more information visit www.daedalusllc.com.