News Topics
10th Annual Sunshine Days To Raise Funds For Children's Home
MESA, Ariz. (Oct. 4, 2007) -East Valley Charities and Longbow Business Park have joined forces again to host the 10h Annual "Sunshine Days", a celebration to raise funds for Sunshine Acres Children's Home. Providence Homes has stepped up for a second year to be the Title Sponsor of the event. The 2006 festivities generated more than $65,000 for the beloved Mesa haven for children from troubled homes.
Sunshine Days 2007 will take place Friday, November 16 at Longbow Golf Club, located on East Longbow Parkway between Higley and Recker roads, just south of Red Mountain Freeway/Loop202 in North Mesa. In addition to golf and social events the Sunshine Days festivities will include a fundraising auction. In addition, the event will feature a raffle for a two-night stay at the Ritz Carlton Half Moon Bay in Northern California. The prize includes an ocean-view room, roundtrip airfare and a round of golf for each person.
Founded in 1954, Sunshine Acres is a charitable organization dedicated to providing homes for children who are separated from their own parents for one reason or another. Sunshine Acres helps the children establish long-term relationship with stable parental figures.
"I've had the privilege of volunteering at Sunshine Acres and learned to deeply appreciate the security and warmth that is created there. The safe and supportive environment provided by Sunshine Acres offers a wonderful haven to children who, in many cases, arrive because of tragic circumstances," says John Poulsen, president of Providence Homes. "Everyone at Providence Homes is pleased to be part of Sunshine Days for a second year and we look forward to helping out with this great event."
"Ten years ago, the first Sunshine Days golf event took place at Longbow Golf Club during Longbow's first year of operation; so, of course, we are thrilled to be celebrating both 10th anniversaries and, once again, hosting this wonderful fundraiser at our facility," says Robert M. McNichols of Daedalus Real Estate Advisors, LLC, developer of Longbow Business Park and Golf Club. "Our neighbor, Sunshine Acres, provides invaluable assistance to children in need and we're honored to assist in their efforts. We are optimistic this anniversary event will outshine all previous fundraising results. North Mesa is very proud of this unique and outstanding care provider and we hope it provides a safe haven for Valley children well into the future."
"Sunshine Days has become a welcomed annual event in the East Valley," says Tom Sitzman, chairman of East Valley Charities and event director for Sunshine Days. "We've been holding this event for a full decade, providing financial support to Sunshine Acres' service of countless young people. As our community grows, so does its needs for children's care. Sunshine Acres is unlike any other program in the Valley. The loving, comprehensive care it provides should be cherished by the citizens of not only North Mesa, but the entire Valley of the Sun. We are committed to helping Sunshine Acres continue its outstanding work by assisting in this terrific fundraising effort."
Vera Dingman, who passed away in 2005, founded Sunshine Acres in 1954 with her husband, Rev. Jim Dingman. Their goal was to create a loving, wholesome Christian home for children who were separated from their parents. Sunshine Acres cares for children ages 5 to 18, providing stability and loving care for some children through their college years. Ms. Dingman's hope was to help each child become healthy, happy community citizens with a strong sense of spirituality and responsibility. During its years of operation, Sunshine Acres has cared for more than 1,500 Valley children.
Sunshine Acres is governed by a private board of directors and receives no government funding. The home relies solely on the generosity of caring individuals and compassionate companies in the Valley who provide money and in-kind support.
Sunshine Days' schedule of events:
Friday, November 16:
9th Annual Shootout for Sunshine Golf Tournament - Two shotgun starts will proceed with the first at 7:30 a.m. and a second at 12:30 p.m. Registration begins at 6:30 a.m. for the morning round, which is limited to 72 players. Registration starts at 11:30 a.m. for the afternoon round, which will include 144 players. Both rounds include lunch, generously provided by Texas Roadhouse.
Stars Come out for Sunshine - An elegant evening at the exclusive Longbow Golf Club outdoor patio, including dinner provided by Carrabba's Italian Grill, music & dancing, silent and live auctions, and door prizes. Registration/reception begins at 5:30 p.m., followed by dinner at 7 p.m., auction and dancing until 10 p.m.
Sunshine Days Entry and Sponsorship - Many opportunities are available for sponsorship and participation in the "Sunshine Days" festivities. Sponsorship packages range from $350 to $10,000. Individual golf entry is $175 and a foursome can be purchased for $600. To obtain entry forms and more information call Tom Sitzman at 480.926.0352.
Longbow Business Park and Golf Club is developed and marketed by Daedalus Real Estate Advisors, LLC. Longbow Golf Club is professionally managed by OB Sports Golf Management Company of Scottsdale.
For more information about Longbow Golf Club, visit www.longbowgolf.com or call 480.807.5400. For Longbow Business Park and Golf Club information, call 602.889.2323.
For more information about "Sunshine Days" or Sunshine Acres Children's Home, contact Tom Sitzman at 480.926.0352, or visit www.longbowgolf.com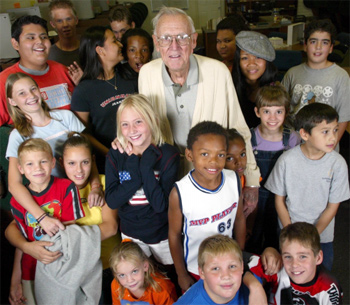 Photo Caption: The late Dr. John Kerr donated countless hours of volunteer medical service to the children of Sunshine Acres. Here he is pictured with some of the children for whom he cared.
About Daedalus Real Estate Advisors, LLC
Daedalus Real Estate Advisors, LLC, is a Phoenix based commercial real estate services company that provides investment, development and communications consulting to corporate real estate clients. Consistently recognized as one of the state's most influential developers by Arizona Business Magazine, Daedalus creates exclusive lifestyle experiences through office, industrial, retail, golf and residential development. For more information visit www.daedalusllc.com.
About Providence Homes
Providence Homes has been building homes in the Phoenix area for nearly 20 years. During that time Providence has developed numerous subdivisions and has constructed thousands of homes for the wonderful people of this valley. The owner and principals of Providence are all long time Arizonans who are proud to be part of this great community.