News Topics
Vail,Colorado
July 20, 2010
"Vail Cabaret Nights" Cast Full of Talent and Ambition - Don't Miss Your Chance To See VCN…Summer Season Ends July 31st!
Media Contacts:
Meghan Fable / (602) 363-5659 / mef@daedalusllc.com
Michele Wolff / (602) 329-2199 / mvs@daedalusllc.com
In just a few short seasons, Vail Cabaret Nights has become a new Vail tradition and an on-the-job training ground for local Vail talent. From high school students to college music majors, Vail Cabaret Nights packs in great talent from all around the Valley and pairs it with award-winning food and drinks from Marketplace on Meadow Drive.
Returning cast member, Sean Pack, is now a seasoned member of the VCN family. Pack has been with VCN for two summers now and is currently studying Vocal Performance and Music Composition in the School of Music at Carnegie Mellon University in Pittsburgh, PA. Pack hopes to translate all of his experiences into a job of composing music for movies.
"I have been singing and performing for nine years and am studying performance now in order to prepare for a professional career in music and/or the stage," Pack said. "This job has definitely opened my eyes to a new avenue of performing. When on the stage, you don't have to be personal with your audience as there is the 'Fourth Wall'. However, with Cabaret, it is all about connecting with your audience. This experience has made my performances more organic and believable due to the intimate setting of the Cabaret."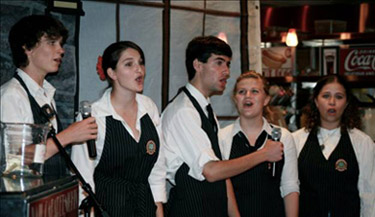 Maritza Santana is a new member of the cast this summer. Santana has no formal training or experience, just a lifelong love for music and singing.
"I was looking for a job in the Vail Daily and saw an ad for a singing waitress. I called to audition and here I am!," said Santana. "I am definitely learning techniques to make what I enjoy to do much better. It has helped me achieve more confidence in myself. This is an opportunity I was blessed with and wouldn't change it for the world. I hope to stick around for next season with the Cabaret."
Incoming Battle Mountain High School senior, Charlie Barry, has been performing in musicals since the 7th grade. Performing in his third summer with Vail Cabaret Nights, Barry dreams of directing and performing in movies and on Broadway.
"Vail Cabaret Nights has made me a much better singer and better performer," Barry said.
Another VCN veteran performer, Gina Lovell, is a Battle Mountain High School graduate and current University of Colorado at Boulder student. Lovell has performed for six seasons with VCN, both in the winter and summer.
Lovell, who has participated in many theatre and musical workshops around the Valley, credits VCN for improving her overall performance level.
"I am more prepared to audition and perform professionally," said Lovell.
Catch all of these talented performers at of Vail Cabaret Nights this summer. Performances are held Wednesday thru Sunday nights from 7 to 10 p.m. and continue until July 31st.
Vail Cabaret Nights is lead by Rayla Kundolf and music director, Taylor Kundolf. Rayla is from Santa Fe, where she was one of the founding troubadours at La Casa Sena – one of the places that served as the inspiration for Vail Cabaret Nights. Taylor is an accomplished entertainer and pianist who has performed for audiences all over the world.
"I feel like a proud parent as I watch them learn, grow and develop over their time with us at Vail Cabaret Nights," said Rayla Kundolf. "It's a pleasure to have some small part in not only bringing quality live entertainment to Vail, but in helping these talented people move onward and upward in their performing careers.
Vail Cabaret Nights is proud to have Plum TV 16 as a television media partner this season as well.
Vail Cabaret Nights is free and reservations are accepted by calling 970-477-4373 but are not required. Free parking is located at the Vail Transportation Center. Marketplace on Meadow Drive is located in Vail Village, at the corner of Meadow Drive and Willow Bridge Road, just west of the International Bridge. From the Transportation Center, head west on Meadow Drive. For more information call 970-477-4373 or visit www.marketplaceonmeadowdrive.com.