News Topics
Vail,Colorado
February 19, 2008
Best New Business
Marketplace on Meadow Drive
Matthew's
Lift Cafe
Vail's Marketplace is a one-stop shop for gourmet goodies, be they eat-in, groceries or grab-and-go. "It's a different concept for delivering food and beverage products to Vail," said owner Bob McNichols. Though it's a similar concept to markets cropping up all over the country, Vail Village has no such thing — especially since recent development has booted grocery stores. "We wanted to bring groceries back and combine it with a place you could eat and drink and be entertained in the process." There's a pizza bar (great gourmet pies), tavern, gourmet grocery store, cafe, wine shop and creperies, all lined up like little ducks, one room after another. "The best thing we do is open at 8 a.m. and stay open until 10 at night. You can have breakfast, lunch and dinner with your family."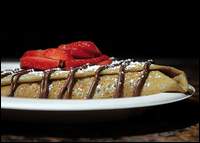 Crepes are one of the many offerings at
Marketplace on Meadow Drive.
Matthew's in Edwards is chef Matt Jones' baby. He and his wife opened the locals' joint to serve his favorite, mostly organic, cuisine. They've also got a take-away menu and a separate entrance for people who want to grab healthy meals on the go. The first thing the new owners did at Lift Cafe was give it a little lift. The menu is veggie and carnivore-friendly, and everything tastes bright and fresh. The coffee and sandwich shop is located right on Minturn's Main Street
Marketplace on Meadow Drive is open for breakfast, lunch, dinner and convenient gourmet grocery shopping 365 days of the year.