News Topics
Vail,Colorado
March 25, 2009
World Renowned Flamenco Guitarist to Perform at Marketplace on Meadow Drive - René Heredia Appearing April 7-10, 2009
The magic of Flamenco comes to Vail as internationally acclaimed Flamenco guitarist and Spanish Gypsy dance master René Heredia will be performing a special four night engagement in the intimate Café and Bistro surroundings of Marketplace on Meadow Drive. Spanish legend Sabicas called Heredia "the most sensational Flamenco guitarist in the United States."
René Heredia was raised with the guitar. He began his training with his father, a Gitano Puro (pure Gypsy). He remembers always having a house full of Flamencos including Carlos Montoya, Vincente and Mario Escudero, Sabicas and many more. They all became close friends of the family. Sabicas would help teach René the secrets of Flamenco around his mother's kitchen table.
His international recognition came when he was seventeen and Flamenco dancer Carmen Amaya selected him to be her lead guitarist. He toured many years with Amaya performing the major capitals of Europe and the United States. He was also lead guitarist for the Spanish dancer José Greco.
While living in Paris, Heredia's album Alborada Flamenca was awarded the prestigious Gran Prix de Disque of France. In the United States he has performed solo concerts at Carnegie Recital Hall in New York City, the Dorothy Chandler Pavilion and the Greek Theatre in Los Angeles and myriad radio and television appearances. He has played command performances for royalty such as Price Rainier and Princess Grace of Monaco, Prince Bandar of Saudi Arabia, Queen Noor of Jordan, and dignitaries including US Presidents Gerald Ford and Jimmy Carter.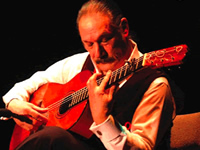 Recently he was a guest artist and lead guitarist with Stewart Copeland, a founder of The Police, in his international and United States tour dubbed The Rhythmatists. And the Colorado Performing Arts Center has named Heredia as the musical director for its upcoming performance of the play Romeo and Juliet set in early colonial California times.
At home in Colorado, in addition to scores of concerts and appearances both public and private, he has performed Alborada Gitana, his own symphony composition and Flamenco suite for guitar and orchestra at Red Rocks Amphitheatre with the Denver Symphony Orchestra and the Denver Chamber Orchestra.
A recipient of the Colorado Governor's and Denver Mayor's awards for excellence, Heredia is at the forefront of his craft. His list of recognition, acclaim and international and national accolades and achievements span his long impressive career.