News Topics
Vail,Colorado
September 10, 2009
Vodka 14 Back by Popular Demand
Marketplace on Meadow Drive Wine Shop to Host Tasting This Sunday
Join us for a tasting featuring Vodka 14, distilled in the Rocky Mountains from certified organic grain, this Sunday, September 13th from noon to 3 p.m. at the Marketplace on Meadow Drive Wine Shop.
"We had a wonderful response to our first event at Marketplace Wine Shop. We are looking forward to another chance to showcase Coloradoís own Vodka," said founder Mitch Baris.
To kick off the fall season, Vodka 14 will bring infused fall flavors including a seasonal black grape and fresh tarragon infusion as well as a year round favorite, lemon ginger.
So, what is an infusion? An infusion is created by steeping Vodka 14 in fresh, natural ingredients such as fruits, herbs, teas, and spices. The vodka and the ingredients are placed together in a sealed jar or directly into the Vodka 14 bottle for a period of time, ranging from minutes to weeks, allowing the ingredients to impart flavor to the vodka. Specialty infusion jars offer a spigot at the bottom for easy pouring, but Vodka 14 can be infused in any glass container, including its own clear bottle.
As many fine bars and restaurants have discovered, infusions are far superior to flavored vodkas created by adding sugary syrups and artificial flavors, as you often find in pre-flavored vodkas. Infusions offer rich flavors without compromising the characteristics of a super-premium vodka like Vodka 14. At Altitude Spirits, they find that infusions are more consistent with the pure, organic character of our product and they encourage our customers to try this time-honored technique for themselves.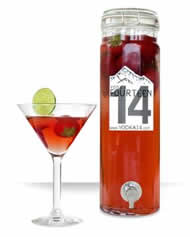 Vodka 14 is distilled and bottled at the foot of the majestic Teton Mountain Range by Altitude Spirits, an independent spirits company based in Boulder, Colorado and run by the father-and-son team of Mitch and Matthew Baris. Mitch and Matthew have revived a tradition of vodka distillation running back five generations in their family to their Eastern European antecedents. With Vodka 14, Altitude Spirits set out to prove that craft quality can set a benchmark for purity and taste unrivaled by mass-market brands.
"With only two weeks left in our Sunday tasting series, we wanted to bring back a favorite with a fall twist," said Kristen Fannin, sommelier for the Wine Shop at Marketplace on Meadow Drive.
The tasting will occur during Vailís popular Farmersí Market, where attendants can browse hundreds of unique vendors, including Marketplace on Meadow Drive, where a variety of food and drink options are available for purchase.
The Wine Shop at Marketplace on Meadow Drive features a wide selection of wines ranging from daily table varieties to collector vintages. The Wine Shop also provides spirits and a wide array of international and domestic beers.
The tasting event is free and reservations are not required. Parking is located at the Vail Transportation Center, where the parking is free. Marketplace on Meadow Drive is located in Vail Village, at the corner of Meadow Drive and Willow Bridge Road, just west of the International Bridge. From the Transportation Center, head west on Meadow Drive. For more information, call 970-477-4370.
For more information about Vodka 14, please visit www.vodka14.com.