News Topics
Creating a heavy-metal masterpiece
Publication: Vail Daily; Date: 12/19/2007
By Charlie Owen
A 20-foot sculpture is a far cry from a pair of earrings or gold bracelet.
That much was apparent to artist Brent Boren when he agreed to make a sculpture for One Willow Bridge, a 22-unit condo and fractional ownership project in Vail.
Taking a breather from his first love of designing and crafting jewelry, Boren spent the past six months pouring his energy into a steel, abstract sculpture, which he named "Gentle Breeze." Three separate steel columns reach toward the sky, curving around each other and ending in sharp points. The sculpture was installed Friday in the courtyard of the complex.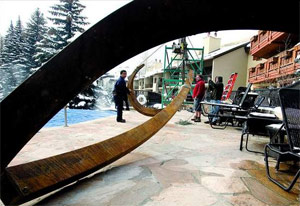 "I knew that I didn't want to just do a willow tree," Boren said, referring to the association's willow tree logo.
He also wanted to stay away from statues of bears and other wild life, which are common around Vail. The choice to go with a contemporary and abstract design was a bold move by Boren since this was his first large-scale sculpture, but he envisioned a sculpture that captures the essence of the willow tree without being an exact representation of one. He said he wanted it to have the appearance of fluidity and motion and still be large enough to take advantage of the open space in One Willow Bridge's courtyard.
A tall order
Boren has been sculpting since he was a little kid in Houston, Texas. Like most kids, he said he enjoyed making things out of Play-Doh but when he got to high school he began taking it more seriously and started using metal in his sculptures. His main interest was still in jewelry design, however.
After moving to Vail 17 years ago, Boren has worked with local artists like Dan Telleen at Karat's in Vail. He's been making bronze sculptures for the past five years, but nothing larger than table-top-sized designs.
Once the location for the sculpture was agreed upon, Boren had a better sense of how tall he could make it and how his design would flow with the environment.
"They demanded something that wasn't going to be dwarfed by the building. It needed to be tall," Boren said.
Other than that, the look of the sculpture was left up to Boren.
After building several cardboard models, he and One Willow Bridge's owner, Bob McNicols, agreed on the final version, and Boren went to work collecting materials and fabricating the individual pieces of the puzzle that would eventually make up the completed sculpture. It would take Boren almost four months to cut and weld the pieces together.
"He (McNicols) took a risk with me that I really appreciate," Boren said.
Large and light
The steel used to make "Gentle Breeze" is called Core-Ten and was originally designed to make bridges. It is thick and has a quick-rusting top layer that prevents the rest of it from corroding and weakening. This rust feature was the main reason Boren used it. The color that the metal will eventually turn — a reddish, orange color — was exactly what McNicols wanted, Boren said, but it will take about a year for it to turn that color.
The end result of Boren's hard work is a sculpture consisting of three separate steel columns, each measuring just over 20 feet tall, with an approximate total weight of 1,000 pounds.
"It's amazingly light for how large it is," Boren said.
The residents of One Willow Bridge also seem content with the work, according to the property's general manager, Oliver Nunnenmacher.
"I've only heard good comments. The initial reaction is favorable since it's so contrary to the usual style here. I've never seen a sculpture so well-received as this one," Nunnenmacher said.
'It's my baby'
A project of this magnitude is bound to have its setbacks, but it was nothing that Boren and his team — his 18-year-old son Brett and his assistant Jared Heye — couldn't handle though.
Overcoming the challenges associated with such a vast piece of art was one of his favorite parts of the entire enterprise. At different points Boren had to invent tools to accommodate his needs while fabricating the sculpture. Not surprisingly, working with the steel was a bit more challenging than the miniature cardboard models.
"I push (the steel) to a certain degree but it kind of takes over and does its own thing," Boren said. "As an artist you look back and you say 'that's not exactly what I planned but I like it.'"
And now that Boren has had a chance to step back and look at the finished work, he's confident that he has created something special.
"I feel like it's my baby. I'm very proud of it. I'm very pleased with how the designing came out on its own, but also how it works in the space," Boren said.
If only we could all see that kind of beauty in a sheet of metal.
High Life Writer Charlie Owen can be reached at 748-2939 or cowen@vaildaily.com.