News Topics
Can developers make Vail an art mecca?
Publication: Vail Daily; Date: 12/19/2007
By Edward Stoner
VAIL — There's only so much you can do with architecture, and only so much you can do with furniture, said Bob McNichols, a local developer.
It is art, he said, that can bring a unique dimension to a building.
"It adds texture, character," he said. "It increase people's appreciation for the interior and exterior."
At his building, One Willow Bridge Road, McNichols installed hundreds of pieces of art, including a 20-foot-tall sculpture that he commissioned. The rust-colored sculpture, made of three columns of steel, soars over the pool area.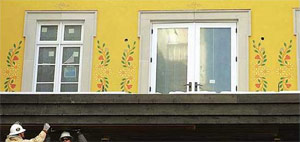 "(Art) is an enhancement to life," McNichols said.
The town of Vail recently proposed a law that would mandate that developers put art in their buildings, increasing the scope of Vail's art requirements. But the Town Council defeated the proposal.
Mayor Dick Cleveland said it didn't seem fair to force private developers to build art on their own properties. He said art should be an option, not a mandate.
"It's basically a tax to require people to do it," he said.
McNichols — who installed his art voluntarily — agrees.
"Anything you make people do turns out poorly in a lot of cases, especially something like art," McNichols said.
Doe Browning, a Vail resident and trained artist who serves on the town's art board, said she supported the proposed law because it would have given a clearer process to developers who are already promising to provide art.
Providing art is now an option to compensate for impacts such as size and bulk. The Arrabelle at Vail Square, the Vail Front Door and Solaris each pledged at least a million dollars in public art.
Builders are accustomed to being required to provide art, Browning said, citing rules in big cities such as Philadelphia.
And there's no such thing as too much art in Vail, whether it's a sculpture or something more utilitarian like a fence or a railing, she said.
"It's a mind-expanding opportunity, whether you like it or not," Browning said. "It should make people stop and say, 'What is this about?'"
The proposed law would have applied only to developments that increase the total area of all floors by 50 percent, and only developments that are in more dense areas, such as Vail Village and Lionshead.
Margaret Rogers, a Vail councilwoman, supported the proposed law because it gave developers a roadmap to provide art.
But the proposed law would have created too many small pieces of art spread around town, imposing a burden on developers but not getting enough "bang for the buck," she said.
Still, Rogers envisions Vail as an art destination that will draw tourists from Denver and beyond.
"We need to have something in addition to the mountain that is going to bring people here," she said.
What developers are doing
Several developers have promised art as part of their developments. That includes:
Arrabelle at Vail Square: $1 million in public art, including a glockenspiel, a maypole, chandeliers and an engraved stone column.
Vail Front Door: $1 million in public art, including funds for part of the Seibert Circle fountain as well as a skier sculpture.
Solaris: $1.1 million in public art, including two big sculptures by Lawrence Argent, the artist who created the Big Blue Bear in Denver.
Staff Writer Edward Stoner can be reached at 748-2929 or estoner@vaildaily.com.