News Topics
FOR IMMEDIATE RELEASE
February 3, 2011
Vail, Colorado
mvs@daedalusllc.com
Homemade Chocolates and Much S'more at Free Marketplace Tasting Event on Friday, February 11th
VAIL, CO (February 3, 2011) - Join the Marketplace on Meadow Drive as we welcome award-winning Colorado chocolatier, Robin Autorino of Robin Chocolates on Friday, February 11th. This chocolate lover's event, just in time for Valentine's Day, will take place from 12:30 – 4:30 p.m. and admission is free.
"We'll be toasting s'more samples made with our homemade honey marshmallows and a slab of Valrhona Tainori dark chocolate melted on our crispy housemade graham crackers," said Autorino . "We'll also have the boxed Valentine chocolates, Salt Caramel Lollipops, and some special Valentine treats for you to sample and share with your loved ones."
Robin Chocolates is grounded in three main principles. Their goal is to produce the very best chocolates and confections that they can. In order to do this, they use great ingredients, artisanal techniques, and intense passion to create consistently high-quality chocolates and confections.
In addition, Robin Chocolates has won many awards including Best Traditional Truffle for the pomegranate molded chocolate and the Grand Champion award for the chocolate caramel fleur de sel molded chocolate at the Holiday Chocolate Festival this past December at the Broadmoor Resort, a legendary 5 star resort in Colorado Springs.
"We love supporting local Colorado businesses and at the same time bringing new, unique products to the Vail Valley," said Marketplace Manager Michael McNichols. "We hope you'll stop by. We know you won't be able to resist Robin's mouthwatering creations!"
Marketplace on Meadow Drive is located in Vail Village, at the corner of Meadow Drive and Willow Bridge Road, just west of the International Bridge. From the Transportation Center, head west on Meadow Drive. For more information, call 970-477-4370.
For more information on Robin Chocolates, please visit www.robinchocolates.com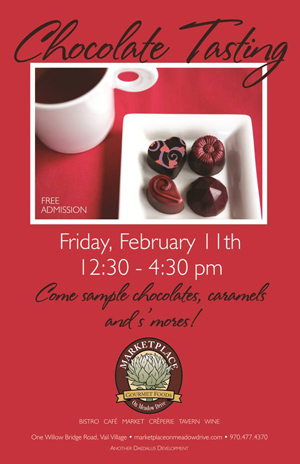 About Marketplace on Meadow Drive
Marketplace on Meadow Drive is a unique market concept located on the ground floor at One Willow Bridge Road featuring gourmet groceries and prepared foods, deli service, coffee and baked goods, a crepe bar, gelato and smoothies, a wine bar, a wine store and unique gifts throughout with an upscale village atmosphere. Marketplace on Meadow Drive is another Daedalus development. For more information, visit www.marketplaceonmeadowdrive.com.
About One Willow Bridge Road
One Willow Bridge Road is one of the first new developments as part of the Town of Vail's "Billion Dollar Renewal". The private condominium residence is the first of its kind in Vail Village and offers opportunities for whole or fractional ownership of two, three and four bedroom units to an elite group of consumers. One Willow Bridge Road offers state-of-the-art amenities and exclusive resort management services by the world-famous Sonnenalp Resort of Vail. For more information, visit www.onewillowbridgeroad.com.
About Daedalus Real Estate Advisors
Daedalus Real Estate Advisors, LLC, is a Phoenix based commercial real estate services company that provides investment, development and communications consulting to corporate real estate clients. Consistently recognized as one of Arizona's top developers, Daedalus creates exclusive lifestyle experiences through office, industrial, retail, golf and residential development. For more information, visit www.daedalusllc.com.