The Legend of Daedalus

The Greek mythologic hero, innovator and craftsman Daedalus, provides the inspiration for Daedalus Real Estate Advisors.
Legend marvels at the great inventor who designed and built the first labyrinth and sculptor who first gave statues movement. An architectural masterpiece of timeless design, the labyrinth represents innovation in form and function ... benchmarks for which we strive at Daedalus Real Estate Advisors. Even while imprisoned by King Minos in his very own creation, Daedalus cleverly crafted wings of feathers, enabling flight to escape the labyrinth, proving once again that creativity and ingenuity are essential for success.
We at Daedalus Real Estate Advisors approach our business in the same way. From visionary concepts in design and development to building strategic partnerships based upon forward motion, growth and improvement, we provide investment, design, development and communications advice to individual, corporate and public real estate clients in Arizona and the rest of the southwest.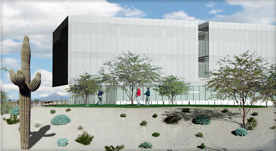 About Daedalus Real Estate Advisors
Daedalus Real Estate Advisors, LLC is a Phoenix-based commercial real estate services company that provides investment, development and communications consulting to corporate real estate clients. Recognized in 2004, 2005 and 2006 as one of the state's most influential developers by Arizona Business Magazine, Daedalus creates exclusive lifestyle experiences through office, industrial, retail, golf and residential developement.