News Topics
Training pilots is a growth industry at Falcon Field
Publication: East Valley Tribune; Date: December 29, 2007
By Tony Natale
Four training facilities for aspiring pilots opened in 2007 at the airport at 4800 E. Falcon Drive, bringing the total flight learning centers to seven. "We started as a flight school during World War II, and we're continuing to grow in that direction," said airport director Corinne Nystrom, who added that Falcon is among the top 10 busiest general aviation airports in the United States.
Unlike commercial airports that offer passenger service such as Phoenix-Mesa Gateway Airport or Phoenix Sky Harbor International Airport, Falcon Field serves smaller, privately owned one- and two-engine airplanes. The airport also has nearly 100 acres of undeveloped land slated for growth.
Pilot training is one of Falcon's fastest-growing enterprises.
"Flight training is good for the vitality of our airport," Nystrom said. "It provides economic benefits not only for the city but for the community as a whole."
One bonus, she said, is a 2.25 percent sales tax companies that lease hangars and space at Falcon Field must pay to Mesa. Another is a tax of 5 cents per gallon on aviation fuel that is paid to the city by flying schools and other plane owners.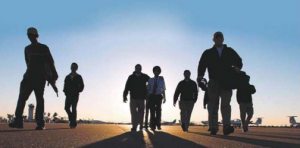 "There is also the economic benefit the students from other countries and states bring with them to the area while they're training," Nystrom said. "They pay for apartment rentals, for example, and other expenses. Some even purchase cars while they're here."
The largest pilot-training school, Sabena Airline Training Center, moved its headquarters from Scottsdale Airpark to Falcon Field in February primarily for more space for its growing number of student pilots.
The other training centers are the two oldest - Arizona Aviation and Learn to Fly AZ, which started more than 20 years ago. Newer schools include Premier Helicopters, Regional Airline Academy, Sun Country Flight Services and X-Air. Sabena trains more than 400 students each year, all foreign students who are potential pilots for airlines in India and the Netherlands.
"We're expanding just like the airline industry is expanding," said Kris Van den Bergh, managing director of Sabena.
The student pilots pay between $30,000 and $40,000 for up to nine months of training, plus about $4,000 to rent nearby apartments. They attend classes in the center's 30,000-square-foot school at 5010 E. Falcon Drive, sit in simulated airplanes, fly single- and twinengine planes with a trainer, and solo over the East Valley.
Their ultimate goal is to step into the cockpits of the Boeing 737 and Airbus A320/330/340 passenger aircraft.
Van den Bergh said the center provides trained pilots for five Indian and European airlines, including KLM Royal Dutch Airlines and SpiceJet Airlines of India. Students are renting more than 60 apartments in Mesa and nearby areas, he said.
He said the training center plans to increase its annual budget in 2008 to more than $16 million. Most of the student pilots receive some reimbursement from their respective airlines, and some qualify for tax deductions for their training costs, Van den Bergh said.
Sabena Airline Training Center owns 40 airplanes and is planning to purchase 10 more. It has 100 employees, including 50 flight instructors, 25 mechanics and 25 on the administrative staff, and is planning to hire more people.
"We would like to offer training for the growing number of student pilots in China, but so far we can't handle it," Van den Bergh said, adding that China needs 5,000 pilots in the next two years.
Nikhil Samuel Chavhan, 24, of Delhi, India, is completing an eight-month pilot training course that began in Australia and ended up in Mesa. He plans to join SpiceJet.
"Flying has always been my dream, mainly because my father is an ex-Air Force pilot," said Chavhan, who holds a master's degree in computer science. "But my other dream is to become a rock star. Yes, really. I've always enjoyed performing onstage."
Marnix Van Denbeld, 23, of Holland is training to fly for KLM Royal Dutch Airlines.
"I want to become a pilot because I don't want to spend the rest of my life sitting behind a desk," said Van Denbeld, who recently began a three-month course at Falcon Field.
Both student pilots said they were pleased with the friendly environment in the East Valley.
C.B. Wilson, a former U.S. Army pilot and instructor at the center, said after retiring from the military he decided to become a trainer because of the demand for teachers.
"The students are topnotch, and they're very eager to learn," said Wilson, who flew for 22 years and later became a program manager in the defense industry. "I also enjoy the wonderful weather here."
The smaller flight schools at Falcon Field, meanwhile, are serving mostly walk-in students from Arizona and other states with skills so they can obtain licenses from the Federal Aviation Administration to fly smaller planes. Some are being trained to fly commuter jets for regional airlines.
Students at Arizona Aviation pay $4,500 on average for three to four months of training so they can qualify for FAA permits. Sun Country Flight Services and Premier Helicopters have leased office and classroom space from Tango One Aviation, a company that provides fuel and services for airplane owners.
"There's a big demand for space for classes for these training centers," said Samantha Hertzler, co-owner of Tango One. "We're expecting to lease even more classrooms in the near future."
Falcon Field
Started: 1941 as a training center for British Royal Air Force pilots preparing to fly during World War II
Owner: Mesa
Size: 600 acres
Runways: One 5,100 feet long, the other 3,800 feet
Location: Bounded by McDowell, Higley, McKellips and Greenfield roads
Hangars: 412
Number of on-site aviation-related companies: 47
Annual takeoffs and landings: 300,000