News Topics
Nicole Frey
Vail, Colorado
August 12, 2007
Eat, shop, repeat
VAIL - It hits the nostrils first - that soft scent of baking pastries. It's subtle but just enough for you to want more. The aroma lures you closer until you've stepped through the doorway of one of Vail Village's most recent additions - the creperie at the Marketplace on Meadow Drive.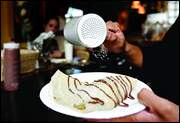 Inside, a man in black deftly ladles batter onto a hot crepe burner. In just seconds, the better firms up into a paper-thin crepe. Folding the crepe over, the man slathers Nutella chocolate spread over the pastry and adds blueberries and strawberries. Wrapping the crepe around the fruit, he drizzles a bit of chocolate sauce over the concoction. A burst of whipped cream and a sprinkling of powered sugar, and the decadent dessert is complete and delivered into the hands of a wide-eyed child practically drooling with anticipation.
"Crepes are one of the most popular new food items right now," says Bob McNichols, who owns and operates the Marketplace on Meadow Drive. "They're all over the major cities, and people just love them."

Not just crepes
The creperie has been a huge hit since it opened in mid-July, McNichols said, but that's not all the Marketplace has to offer. Along with crepes, the creperie serves up more than 20 flavors of gelato - everything from plain vanilla to exotic blueberry ginger sorbet.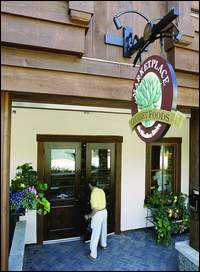 Travel west, and you'll find yourself in the market portion of the Marketplace, which offers hard-to-find imports - including cheeses and meats - and organic, local products, like milk from Wholesome Milk Products in Fort Collins. The market also sells a smattering of personal effects, packaged sandwiches and salads and fresh produce.
A tavern, featuring tapas, and a liquor store will be open by Labor Day.
The cafe and bistro cook up breakfast, lunch and dinner, featuring dishes with quirky names like the Cock a Doodle Do, a sandwich of roasted, free-range, all-natural chicken, Boursin cheese, lettuce, tomato and mayo on ciabatta bread.
"It's a simple place that's open and accessible to all," Executive Chef Adam Roustom said. "We've got lots of straightforward dishes and some more intricate ones."
It's also been one of Roustom's highest priorities to cook sustainably, using all-natural products and serving with items including cups made from corn instead of plastic and recycled paper products.
The journey
McNichols described the meandering Marketplace as "a journey" where one can discover a variety of unimagined delights traveling through the restaurants and shops. Maureen Brenner and her friend embarked on the journey Saturday. Visiting from Dallas, Brenner and her lunch date started their meal in the bistro with the Grecian Veggie pizza, a combination of spinach, artichokes, feta cheese, roasted peppers, basil and tomato sauce.
"We just loved the pizza," Brenner said. "The thin crust was just excellent."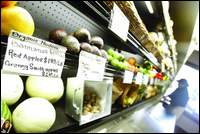 Just moments ago, a Marketplace cook had stretched out the pizza dough by hand, twirled it above his head and laid it out on a wood plank. As he layered on ingredients, Roustom stopped him.
"Don't use those red peppers," Roustom said. "They're not cut right. ... They were cut too thick and won't cook up right."
This attention to detail is to be expected of Roustom's fine-dining background, but it's made the quick-order bistro and cafe all the more sophisticated, McNichols said.
Continuing on her journey, Brenner strolled through the two rooms of the market, eventually ending up at the creperie, where she and her friend shared a Nutella crepe and a dish of banana-and-white-chocolate gelato on the Marketplace's patio.
"It is just delicious," Brenner said.
Growing pains
So far, the public is still warming up to the Marketplace's way of doing business, Roustom said. The cafe and bistro are self-service, and while there are signs pointing out as much, some customers still sit at a table for a while before figuring it out. Many customers visit several of the Marketplace's businesses without realizing they're all part of the same entity.
"It felt like it was three different places, but it doesn't matter," Brenner said. "As long as the food's good and the service is good, we're happy."
McNichols and Roustom said they're confident people will get used to this new way of doing business.
"It's something new in Vail Village, so there's going to be a learning curve," Roustom said. "But people are going to catch on, and they're going to love it."
The men also acknowledged they're experiencing some growing pains. The trained eye can pick out the little flaws, but the public has been largely supportive.
Across the street from the Marketplace at Annie's, sales associate Sarah Straub said she's heard nothing but praise for the new business.
"Everyone loves it," Straub said. "We think it's great, and it serves a huge need. The concept is fantastic, and the McNichols are a great family.
"Primarily, they do a good job," she said. "And I know it'll be getting better."